The Big Show was born in 1972 in Tampa, Florida. He stands 7 feet tall and he weighs 441 pounds and he is the largest athlete in the WWE. He started wrestling in 1995. John Cena defeated Big Show many times but The Big Show wins lots of times because Big Show is very big. Andre The Giant is bigger than the Big Show and they were both Legends. His most popular move is called the Chokeslam and it is pretty dangerous. Lots of people like him in the arena. The Big Show's real name is Paul Wight and The Big Show is a good wrestler. Big Show knocked out Triple H which is the COO. Big Show was fired by Stephanie Mcmahon and Big Show helped Cody Rhodes and Goldust win the Tag Team Championships. Big Show also knocked out Dusty Rhodes, The Miz, Daniel Bryan and Randy Orton. Currently, Big Show is a heel.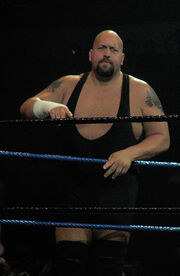 Ad blocker interference detected!
Wikia is a free-to-use site that makes money from advertising. We have a modified experience for viewers using ad blockers

Wikia is not accessible if you've made further modifications. Remove the custom ad blocker rule(s) and the page will load as expected.