Bryan Danielson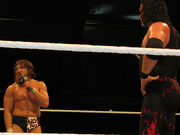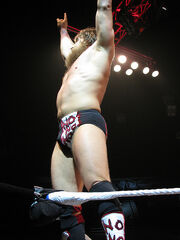 was born in 1978 in Aberdeen, Washington. He was a WWE World Heavyweight Champion,A two-time WWE Champion, World Heavyweight Champion and United States Champion. Daniel and his former friend and Director of Operations for The Authority, Kane, Were in a tag team called Team Hell No. Kane and Daniel also took anger management classes with their teacher, Dr. Shelby. Last year at Raw 1000, Daniel Bryan and AJ had a wedding. Then, Vince Mcmahon announced the new general manager of Monday Night Raw, It was AJ! Daniel Bryan was going nuts! Charlie Sheen via Skype told Micheal Cole and Jerry Lawler that Daniel had anger management issues and he has a goat face. This year, Everybody likes Daniel Bryan! One Time, Daniel Bryan cashed in his Money In The Bank Contract on The Big Show to become The World Heavyweight Champion. Daniel Bryan is 2013 Superstar of the Year and he also got an award for the Fan Participation of the year which is "Yes! Yes! Yes!" which everybody says when Daniel enters the ring. Daniel Bryan was also an NXT rookie and was trained by William Regal and Mr. Wrestlemania and WWE Hall of Famer, Shawn MIchaels. Daniel Bryan got brogue kicked by Sheamus at Wrestlemania 28 in 18 seconds. Daniel and Kane were also former Tag Team Champions. Daniel Bryan relinguished his Intercontinental Champion when he had surgery. He made his retirement on the February 8th edition of Raw.
Ad blocker interference detected!
Wikia is a free-to-use site that makes money from advertising. We have a modified experience for viewers using ad blockers

Wikia is not accessible if you've made further modifications. Remove the custom ad blocker rule(s) and the page will load as expected.