Randy Orton was born in St Louis, Missouri and he lost his WWE World Heavyweight Championship to Daniel Bryan at Wrestlemania. He is known as The Apex Predator and The Viper. In 2013, He defeated John Cena at TLC to become to WWE World Heavyweight Champion. He started wrestling in 2002 like John Cena. In 2013,He cashed in his Money In The Bank Contract on Bryan to become the champion and the face of the WWE.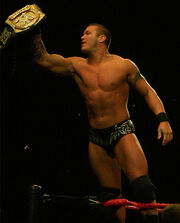 Again in 2013, When there was still no WWE Champion, Randy Orton defeated Daniel Bryan to become the new champion. Also, Randy defeated Big Show at Survivor Series to retain his title. At the 2013 Slammy Awards, Randy accidentally attacked Stephanie Mcmahon and COO Triple H pedigreed Orton. Then on Smackdown, He apoligized to Triple H and The Authority. Currently, Randy isn't with the Authority. He currently has neck surgery and will return to action soon.
Ad blocker interference detected!
Wikia is a free-to-use site that makes money from advertising. We have a modified experience for viewers using ad blockers

Wikia is not accessible if you've made further modifications. Remove the custom ad blocker rule(s) and the page will load as expected.