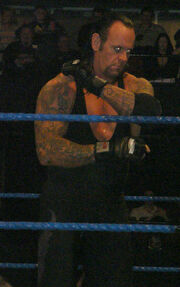 Mark Cataway better known as The Undertaker was born in Houston, Texas in 1965. He is 21-0 at Wrestlemania. His make-believe hometown is Death Valley.
Undertaker is known as the phenom. He defeated people like CM Punk, Triple H and Shawn Micheals. Undertaker joined the WWE in 1990.
He is a former World Heaveyweight Champion too! Undertakers ring annoucer, Paul Bearer died in March 2013. Undertaker's brother is Kane. So, There team is called, The Brothers of Destruction!
Ad blocker interference detected!
Wikia is a free-to-use site that makes money from advertising. We have a modified experience for viewers using ad blockers

Wikia is not accessible if you've made further modifications. Remove the custom ad blocker rule(s) and the page will load as expected.